Toyota Express Maintenance
Right Price. Right Quality. Right Now.

  The Toyota Express Maintenance Difference.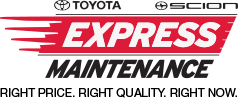 So you're due for an oil change, huh? But where are you going to find the time to get it done? You don't want to deprive your dirty engine of clean oil, but your schedule is too jam packed to go without a car while it's being serviced. What's a Flemington driver to do? Simple! Schedule a Toyota Express Maintenance appointment at Fred Beans Toyota of Flemington!
Toyota Express Maintenance is different from the typical time consuming service appointment you'd find somewhere else. Our skilled service technicians utilize a "pit crew" approach to speed up the service process. Does that we mean quality is sacrificed? Absolutely not. It simply means that you receive the same high quality Toyota service, but faster!
Some of the services we perform are:
Oil & Filter Change
Brake Inspection
Tire Rotation
Fluids Inspected & Replenished
Multi-Point Vehicle Inspection
To ensure that the integrity of your vehicle is maintained, we only use genuine Toyota parts in all of our repairs. When service is done, you can pull onto the Bridgewater, Princeton, Lawrenceville, Doylestown, and Clinton roads with confidence, knowing that your Toyota has just received the best care possible.
Don't delay in getting your service appointment on the books for the routine maintenance that your Toyota deserves. Toyota Express Maintenance is thorough, accurate, and fast! And remember to check our rotating selection of Service Specials. Schedule your appointment online, today!
For more information about Toyota Express Maintenance, download the brochure.



or Call Us Today (888) 892-9632